An unnamed female migrant worker has been labelled a hero online after her noble act of saving her ward during the massive explosion in Beirut, Lebanon.
Also Read: Before and After Photos of Beirut Port from UAE Khalifa Satellite
As shown in a home camera footage, the housemaid instantly jumped into action and grabbed a child when the blast took place. The housemaid did not event hesitate and instantly grabbed the child to safety.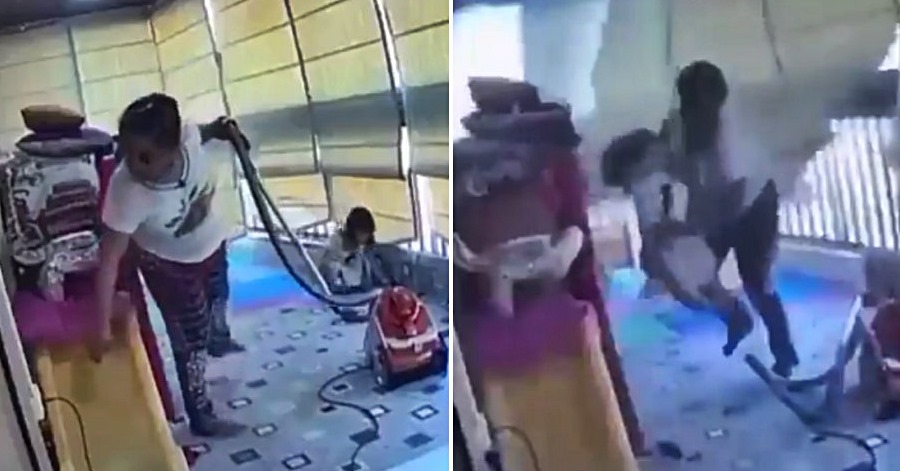 VIDEO: Beirut Housemaid Swiftly Saves Toddler During Massive Blast
In the video which has now gone viral, the nanny could be seen cleaning the floor with a vacuum cleaner while the child was standing in the room. While continuing her work, she noticed the vibration and immediately grabbed the toddler and saved her from the shattered glass and windows.
Check out the video below:
Migrant worker grabs toddler and saves her from shattered glass and windows as the second big explosion erupted in Beirut earlier today. She did not even think. Migrant workers deserve better in #Lebanon – this woman is a hero. pic.twitter.com/BKnEUl7D7J

— Luna Safwan – لونا صفوان (@LunaSafwan) August 4, 2020
The heroic act is very inspiring and showed the nanny's instincts. Many netizens across various social media platforms have praised the nanny's swift action. This truly shows the importance of migrant workers to families and it shows that we need to value these migrant workers and treat them better.
The explosion occurred at the port of port area of Lebanon's capital city where tonnes of ammonium nitrate were reportedly stored.
According the World Health Organization, more than 5000 people were injured, over 130 admitted to intensive care units, and up to 300,000 people have been displaced from their homes and need urgent support for shelter and food assistance.
Hospitals are overwhelmed with the number of injured people and many buildings are destroyed. Search and rescue operations are still ongoing.
Below are some moving images after the blast as shared by netizens:
#Beirut will rise again ✊🏼 pic.twitter.com/WtA2vx9upc

— #PrayForBeirut (@LebaneseProblem) August 6, 2020
Moving scenes out of #Beirut tonight…

— #PrayForBeirut (@LebaneseProblem) August 6, 2020
Everyone should learn this from the people of #Beirut ….. #respect #Lebanon #BeirutExplosion pic.twitter.com/sjtetCqKlK

— Ahmad Tariq (@Ahmadabt212) August 6, 2020