Oman announced that it is cancelling Eid prayers and Eid souqs and gatherings of any kind in public places, which include beaches and parks during the Eid Al Fitr holidays, which falls on the 13th through 16th of May this year.
READ ALSO: [WARNING] Break Lockdown Rules in Oman and Face Hefty Fines, Jail Time
This also includes a ban on family gatherings and any kind of mass celebrations during Eid.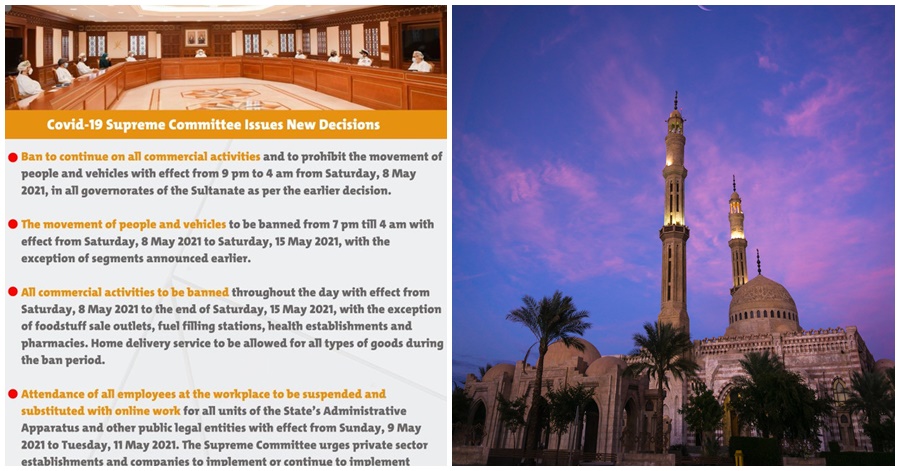 Commercial Activities Banned, Eid Prayers Cancelled in Oman
Moreover, the country has also suspended the attendance of all employees at workplaces. In line with this, employees are to be working from home during this period. The process takes effect starting Sunday, May 9, for all units of state administrative apparatus and other public legal activities, the Khaleej Times reported.
Meanwhile, the Supreme Committee in Oman has also urged the private entities to implement the process of working online and reducing the number of employees to be present in offices.
اللجنة العليا تصدر قرارات جديدة. pic.twitter.com/ypLjepG9sA

— وكالة الأنباء العمانية (@OmanNewsAgency) May 2, 2021
In line with this announcement, the GCC country will also ban the movement of people and vehicles from 7 pm to 4 am from May 8 until May 15, the state news agency said on Sunday, citing the Supreme Committee for Combating Coronavirus.
Moreover, the government will ban all commercial activity all day during the same period, with the exemption of food stores, gas stations, health institutions, and pharmacies. Delivery services for all goods are also exempted from this ban.
READ NEXT: Oman Enacts 5% VAT on Goods and Services