Qatar authorities, through a Cabinet decision, has obligated all residents who are going outside their houses to download and install the Ehteraz app beginning May 22, 2020. This, along with other precautionary decisions, should be strictly followed. Otherwise, violators will face penalties based on Decree-Law No. (17) of 1990 which deals with the Prevention of Infectious Diseases. Violators will face imprisonment of up to 3 years, and/or Fine of up to QR 200,000.
The Ehteraz app is meant to track users who have come into contact with a patient who has been infected with the virus.
Ehteraz means 'precaution' and this App was developed and designed by the Ministry of Interior. This app also provides users the latest updates regarding the virus, as well as other helpful tips and announcements as we all combat the disease.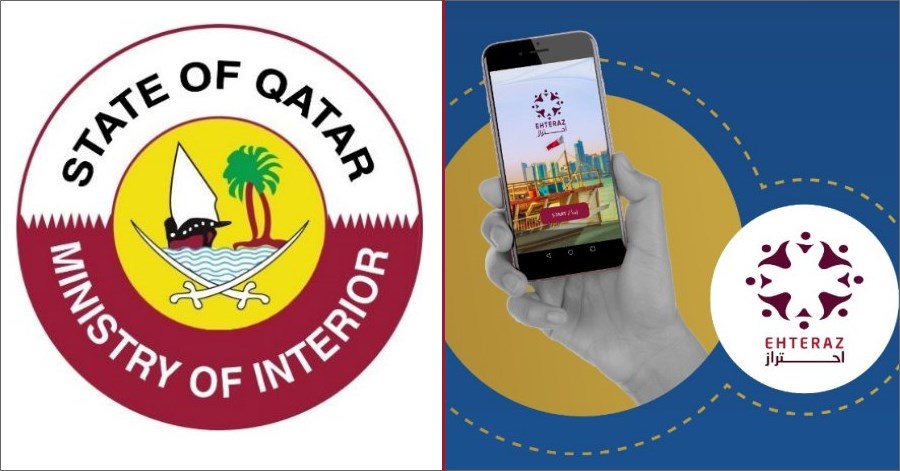 Below is the announcement by the Qatar Council of Ministers regarding the precautionary decisions and measures to reduce the outbreak of the virus. Everyone is required to follow these rules and guidelines.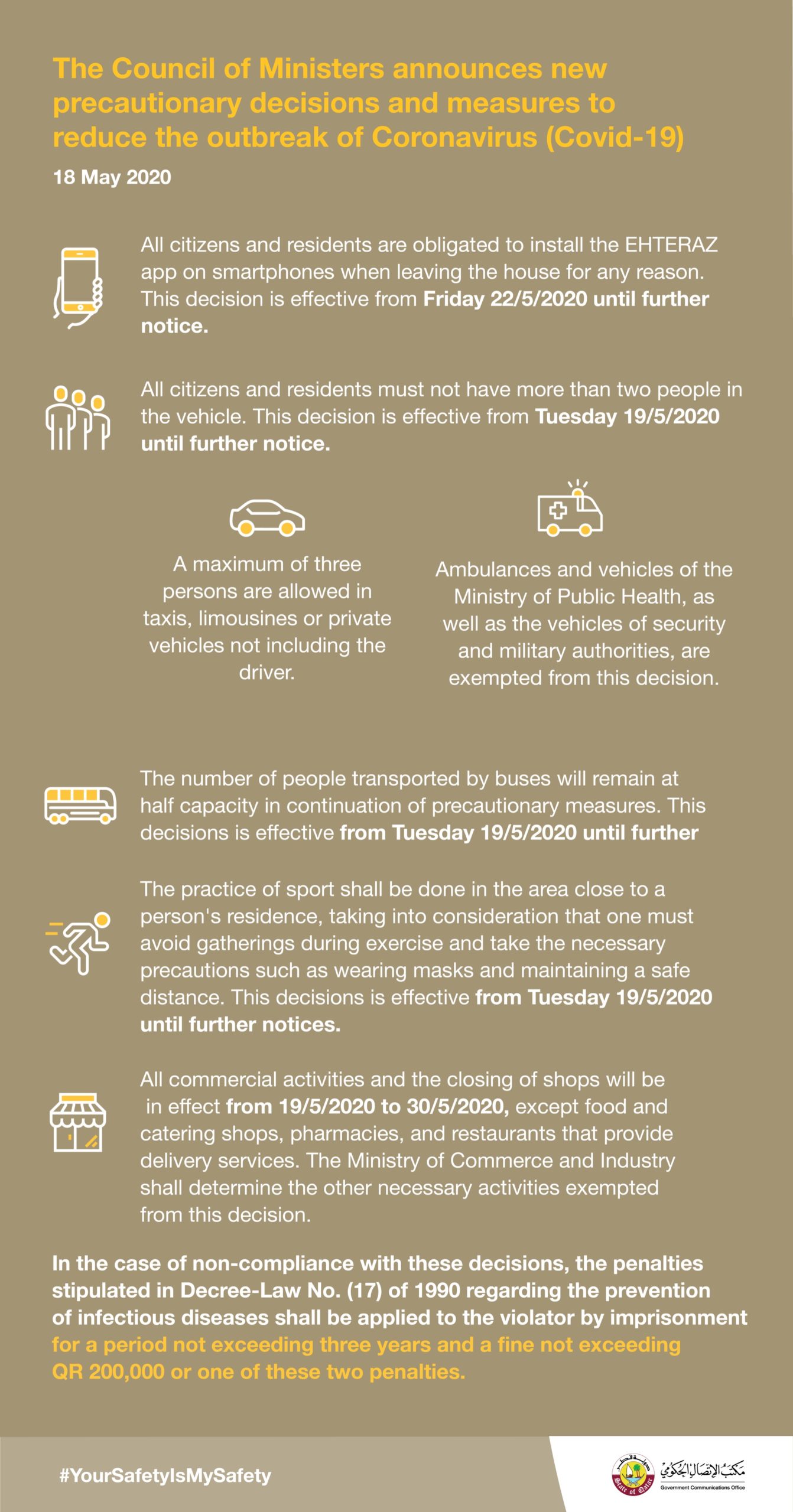 Ehteraz App for Qatar Residents – Required to Install
The Ehteraz app was available since April and the app uses Bluetooth and location features. Both Google Android and Apple iOS users can download this app. It is now mandatory for everyone in Qatar
Below is the announcement  Here is the announcement from the Ministry:
HE Prime Minister and Minister of Interior Sheikh Khalid bin Khalifa bin Abdulaziz Al Thani chaired the Cabinet extraordinary meeting via video conference. The Cabinet announced several new measures to combat the spread of Coronavirus (COVID-19). #YourSafetyIsMySafety pic.twitter.com/v85JcM05vH

— مكتب الاتصال الحكومي (@GCOQatar) May 19, 2020
Here are some of the main features of the Ehteraz App:
Monitor quarantined persons and their locations.
Notify health officials for infected individuals to be given the appropriate treatment
Informs users if they have been in contact with an infected person
The health status of the user can also be checked through the QR codes used in the app.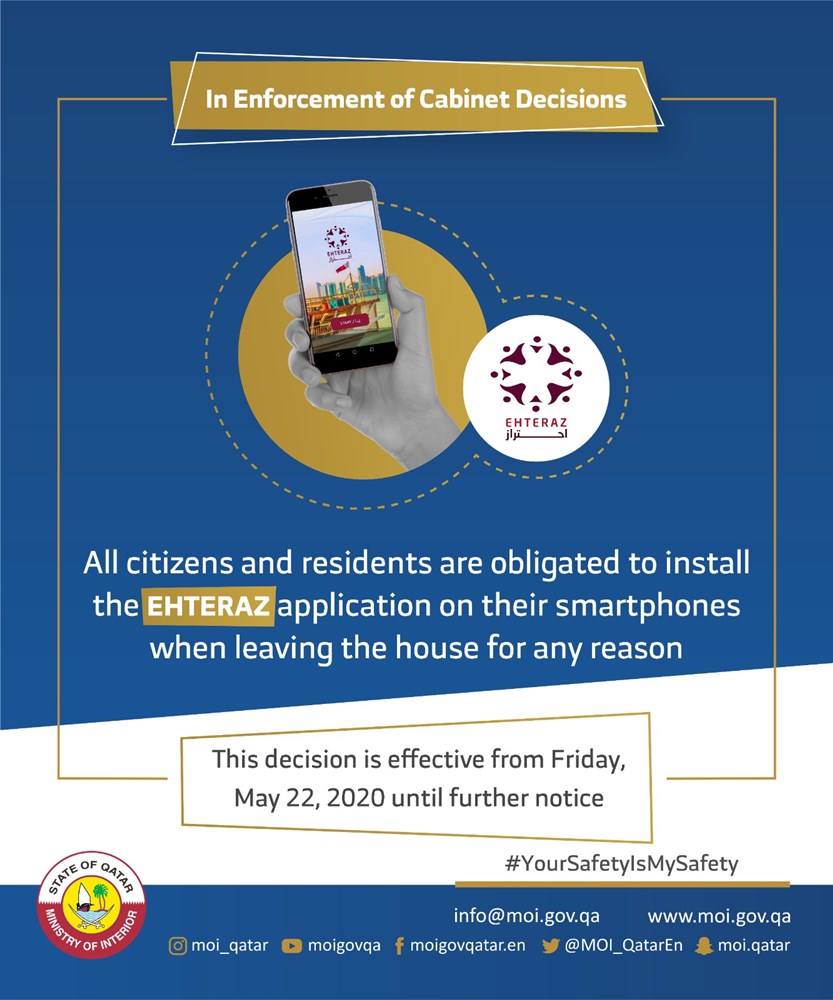 How to Install Ehteraz App on iPhone / Android
Go to App Store or Google Play store
Search for Ehteraz
Click "Get" to install the app. Wait for the installation to be completed before opening the app.
Choose the preferred language by clicking "Accept"
Change the phone's setting so that the location is "Always On"
Register your phone number, QID number and QID expiry date
Wait for the OTP to complete the log-in process
You can also watch this video for more information about this precautionary app:
Residents and citizens are reminded to comply with this Cabinet decision. For those who will not comply, the penalty is either imprisonment or a fine of QR 200,000 or both.