The Royal Oman Police (ROP) announced that it is planning to launch its online work visa facility in September this year.
Recently, the ROP has launched an e-mail notification facility on visit visas. These documents contain specific visa information such as photographs of the visa holder. There are five types of visas under the e-visa option offered by Oman's online facility at present.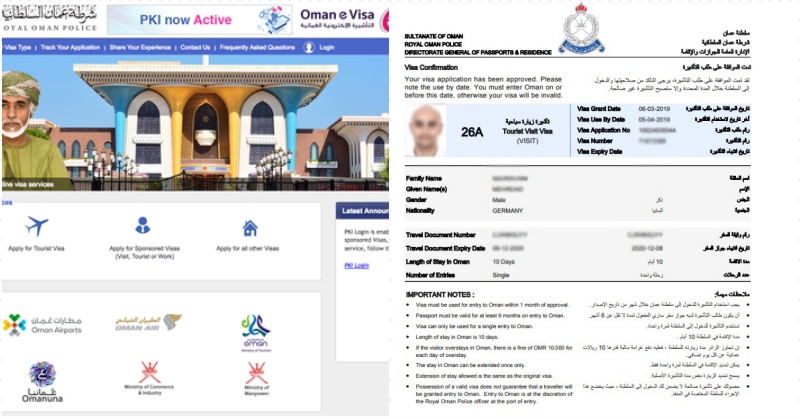 Oman to Launch Online Work Visa Facility in September
According to the ROP, "The facility is likely to be available from the second half of September. We conducted a trial run with a few companies last month to iron out the glitches. Everything went well and there were no issues. We are hopeful that everything will be in place before the launch", as shared in a report by the Muscat Daily.
Furthermore, the e-visa facility will be made available via https://evisa.rop.gov.om. The ROP explained that company representatives can also visit the website to gain a better understanding of the online work visa application system.
Of note, only Oman-issued debit cards can be used for payment to conform to the Central Bank of Oman's new regulations.
"This is mandatory for receiving online applications for work visas. Some Sanad offices are already providing the e-visa facility. This service will be extended and used much more once the online facility is introduced," an ROP representative disclosed.
Among the visa types offered under the e-visa facility are unsponsored tourist visas for GCC and Group 1 countries; sponsored tourist visas for remaining countries (other than those in the Group 1 category); multiple-entry visas for one year and multiple-entry visa for ten years for American citizens as well as Express visas.
The Oman eVisa was first introduced in March 2018 to streamline the process of obtaining a Tourist visa to visit the country. However, Oman is now specifying that visitors to the country will need to apply for visas a week in advance of travel.
In a statement shared by the ROP, "It is recommended to have the application sent at least one week before you travel." The directive also applies to those applying for tourist visas which need to be used for "one month from the date of issue."
Of note, the Sultanate has recently stopped issuing visas on arrival in February 2019.
There is currently a temporary 'Visa on arrival kiosks' in Muscat International airport. However, for those who didn't apply for an eVisa, there is no information on how long these kiosks are going to be there for, so it's advisable to apply for an eVisa before flying Oman.
ALSO READ: Oman to Introduce Expat Visa Ban for Senior Management Roles