If you're a fan of extreme sports, you probably won't be surprised to find out that the UAE has just set a new world record for Largest Flag Flown in Free Fall, as announced by the Dubai Crown Prince and Chairman of the Dubai Executive Council, Sheikh Hamdan Bin Mohammad Bin Rashid Al Maktoum, via his official Instagram account last December 1 in line with the country's celebrations for its 48th National Day.
Sheikh Hamdan's IG post featured an exciting clip of the UAE flag fluttering in the Dubai skies.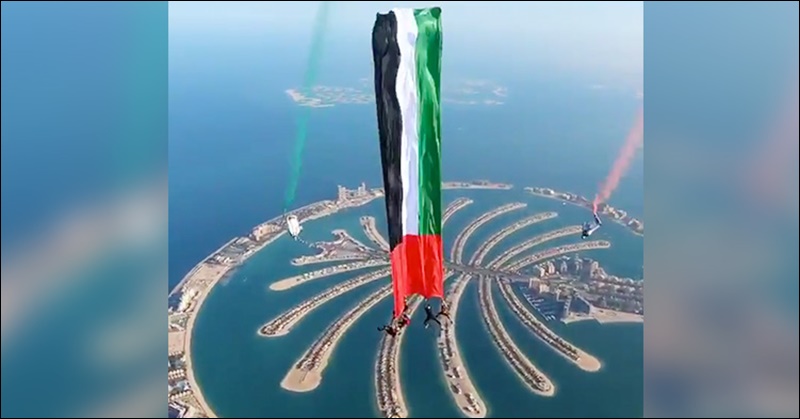 [VIDEO] UAE Sets New World Record for Largest Flag Flown in Free Fall Stunt
The flag, which measures 144 meters square in area, was released by five skydivers. Two other skydivers can be seen in spiral formation, releasing green and red smoke – the colors of the UAE flag as they execute the amazing feat, as shared in a report by Gulf Today.
https://www.instagram.com/p/B5hhgESJudL/?utm_source=ig_web_button_share_sheet
The video showed six professional skydivers jumping off a plane with perfect synchronization. Four divers then set off the longest flag, creating a spectacular display over Palm Jumeirah while the other two helped seal the perfect image for the event by releasing colored smoke in UAE colors to create an artistic background for the thrilling stunt.
On the other hand, Fujairah residents carried a UAE flag spanning several meters long on many boats to celebrate 48th National Day.
Several UAE residents can be seen in the video holding on to a huge flag to mark the occasion while sailing on different boats at sea.
These were just some of the community events prepared by UAE residents to commemorate the country's 48th National Day.
And as soon as the video was uploaded by Sheikh Hamdan, social media burst into absolute joy.
In just 4 hours, the video has already gained more than 558,385 views with over 2,000 comments in less than 2 hours, making it one of the most trending videos in the country on that day.
Aside from these events, there was also much gaiety and revelry across various emirates at night as the UAE night sky was filled with bursting colors and spectacular display of lights as part of citywide celebrations surrounding the UAE's 48th National Day.
As expected, the iconic UAE landmark, the Burj Khalifa also lit up to mark the UAE's 48th National Day. The spectacular light shows were witnessed near the world's tallest building. The venue was jam-packed with dazzled residents and visitors in Dubai.
Here is a clip of the exciting events in Dubai highlighted by the lighting of the Burj Khalifa followed by the dazzling fireworks in the night sky:
With pride in our hearts and smiles on our faces, let us cherish UAE's memorable journey so far and the journey yet to come.Happy #UAENationalDay. #BurjKhalifa pic.twitter.com/jBrkdrDY4f

— Burj Khalifa (@BurjKhalifa) December 2, 2019
ALSO READ: [UAE Labour Law] Guide to Working Hours, Official Leaves, and Vacations