As the Kingdom celebrated its 89th National Day last September 23, fireworks show, concerts, and cultural events were hosted by the government in cooperation with relevant departments.
As part of its 89th anniversary as a Kingdom, the government has aired plans to arrange several seasons for a tourist attraction to align with its economic plan under the Saudi Vision 2030 to diversify the country's economy.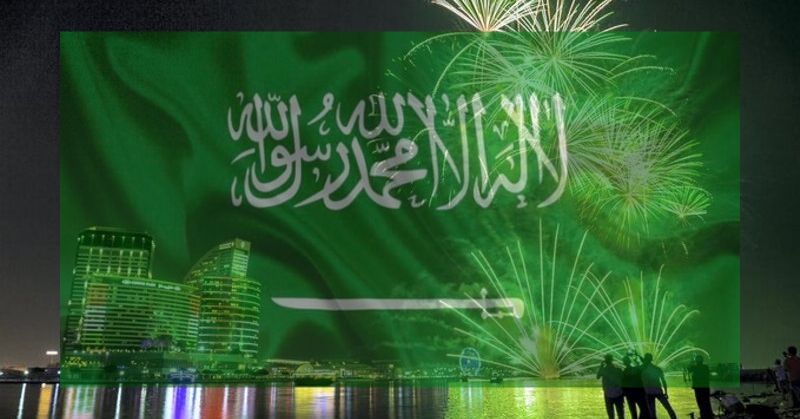 Concerts, Fireworks, & Cultural Activities Banner Saudi National Day Celebration
Accordingly, the Kingdom has created drafts for 11 different seasons for this year. Among these is the season of National celebration, which transformed the Kingdom to an entertainment hub from September 19 to 23, as shared in a report by Al Arabiya English.
For the festive season, the kingdom's General Entertainment Authority (GEA) has organized over 70 different events across various regions of Saudi Arabia to celebrate the period with passion and patriotism.
Of note, the slogan for the event according to Crown Prince Mohammad bin Salman was "Himma Hatta al-Qimma" which means strength until the end, by which the Crown Prince likened Saudi's strength to the Tuwaiq Mountain near Riyadh.
Moreover, the kingdom also observed a four-day holiday starting September 19 to 23 in both the public and private sectors.
As part of the celebrations, huge fireworks were launched during this period, and a firework show was also hosted in Jeddah at the AL-Hamra Corniche and in other cities which will be accompanied with sounds, music, lighting, as well as a laser show.
Furthermore, as part of the 5-day Dhahran exhibition, an international show, especially organized for the National Day, was presented by the world's largest theatrical producer "Cirque du Soleil".
There were also various concerts staged by local and international singers throughout the country during the 5-day period.
And finally, inspirational forums were also held by the nation's leaders to inspire the people and to give them hope through their words and experiences.
For his part, Amr Banaja of the GEA expressed his gratitude to the security authorities for their efforts to make the season a success, as well as to all government, private, and non-profit sectors, for their commitment to this initiative.
Following this period, the Kingdom will next observe the Riyadh Season, which will bring 14 international star acts and an array of exclusive shows to the country's capital, starting next month.
Meanwhile, nationals and friends of Saudi Arabia from all over the world have expressed their delight and unity via social media as the Kingdom celebrates its 89th anniversary as a unified power in the Middle East.
ALSO READ: Saudi Arabia Launches World's First Flowerman Festival