Saudi Arabia's Ministry of Culture observes the celebration of the world's first Flowerman Festival held in Rijal Almaa Village in Asir region in line with the kingdom's vision to promote its culture and tourism.
The festival, which began on August 12 and will run until August 31, was organized and launched by Saudi Arabia's Ministry of Culture (MOC). The celebration observes the traditional wear of the Qahtani tribe—one of the world's oldest social groups—from the mountainous remote town Habala in Southern Saudi.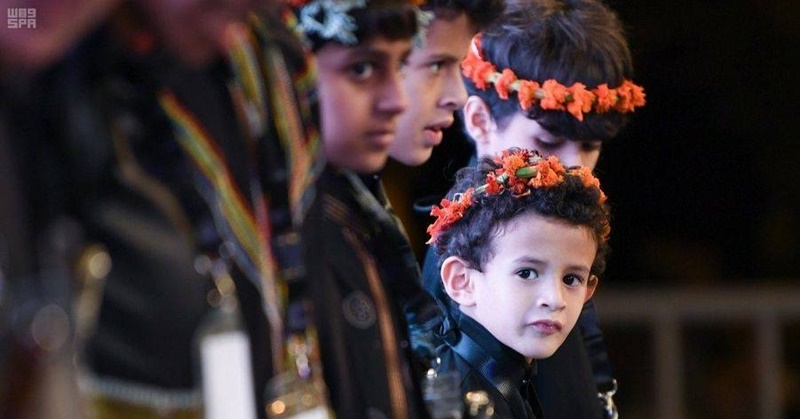 World's First Flowerman Festival Celebrated in Saudi Arabia
The festival, as per the Ministry of Culture, highlights the kingdom's heritage which dates back to the 1950s – when everyone was deeply in touch with nature. The locals used to gather flowers and herbs to create floral crowns, which the people believed bring good health to those who wear them.
Today, the locals from the region uphold and share this tradition with the rest of the world by wearing the garlands in their daily lives – no matter their profession, gender, or status in life.
Through this festival, the Ministry of Culture also aims to provide an immersive experience through a live-open air museum in the festival to capture the imagination and appeal to the senses of visitors.
There will also be live folk performances, art and poetry nights, video-mapping performances, light shows, interactive displays, and heritage markets all throughout this period.
The Flowerman Festival is just one of the initiatives of the Kingdom to rehabilitate and to promote its cultural villages, an in effect, develop them into international tourism destinations.
In line with this, the Saudi Commission for Tourism and Antiquities recently spearheaded a rehabilitation project for Rijal Almaa Village in Asir—with the goal of pushing it to be listed as a UNESCO World Heritage Site.
According to the agency's website, the development of a variety of cultural venues—such as libraries, arts and museums—as well as entertainment possibilities to suit tastes and preferences of visitors are among the projects that they are eyeing to maximize Saudi Arabia's economy and will result in the creation of many job opportunities.
The Saudi Vision 2030 aims to further boost tourism in the kingdom and uphold its rich cultural diversity, by supporting the efforts of regions and non-profit and private sectors to organize such cultural events.
To know more about the Flowerman Festival and to get more information regarding the programs of the ministry, you can check out their official website.
ALSO READ: 25 Facts First-Time Travellers Should Know About Saudi Arabia