Despite the lull on the issue between the US and Iran following the former's bombing of the latter's US bases in Iraq, the Philippine Embassy in Bahrain has assured Filipinos based in the Kingdom of Bahrain that the government is prepared for their repatriation should the need arise, following the recent tensions rising in the Middle East.
On the weekend following the death of Qasem Soleimani, the powerful commander of Iran's elite Quds Force, the US is bracing for possible retaliatory actions by Iran.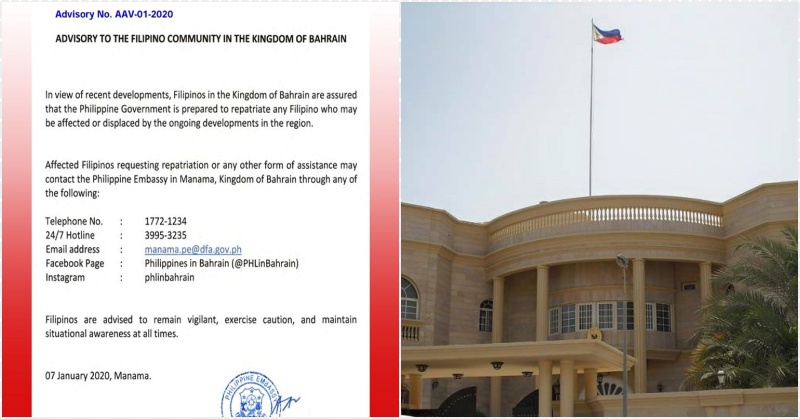 Embassy Prepared to Take In, Repatriate OFWs Amid Ongoing Tension in the Region
An advisory released by the Philippine Embassy in Bahrain on its Facebook page said Filipinos based in these areas are given assurance that the Philippine Government is "prepared to repatriate any Filipino who may be affected or displaced by the ongoing developments in the region."
In line with this, the Embassy further stated that affected Filipinos requesting repatriation or any form of assistance may contact them through their Assistance-to-Nationals Section at 1772-1234 (landline), 3995-3235 (hotline), or [email protected].
Meanwhile, the Philippines' special envoy to the Middle East, Environment Secretary Roy Cimatu, on January 9 (Thursday) said the government will continue to plan for the repatriation of Overseas Filipino Workers in the Middle East despite a seeming easing to the tension in the region.
Cimatu gave an update as to the repatriation activities amid Washington's call for de-escalation in the region after a wave of missile attacks on US bases by Iran, which prompted the highest alert level for Filipinos living in Iraq, Iran, and Lebanon.
He shared, "Assuming Baghdad is closed, they will go to Erbil but there is no direct flight to Manila so they will have to fly to Qatar and Dubai (in the United Arab Emirates)".
Further giving insight to the situation, Cimatu revealed that the worst-case scenario for the ongoing repatriation efforts would be for US bases in and around Kuwait, Bahrain, and Qatar to be targeted.
He also admitted that the situation is unpredictable, and sometimes there are some instances of a very surprise missile attack.
Despite the ongoing repatriation efforts in the region, Cimatu shared that the Embassies in the Middle East cannot account for undocumented OFWs. "We don't know where are they, but we can communicate with them through their families here in the Philippines," he said.
And finally, the Philippine Embassy also sent a word of caution to Filipinos in Bahrain to continue being vigilant, to exercise caution, and to maintain situational awareness at all times.
ALSO READ: Important Hotlines and Contact Numbers in Bahrain