At the turn of the last decade, much has changed in the way Saudis have viewed women. And while there are still religious and traditional gender identifications, it can be said that the Kingdom is becoming more open to modern ideas and approaches, especially when it comes to gender roles and social awareness.
And while it can be said that slow progress is better than no progress at all, the women themselves are also doing their part to challenge this long-standing system, and assert themselves in places where they have great talents and use for.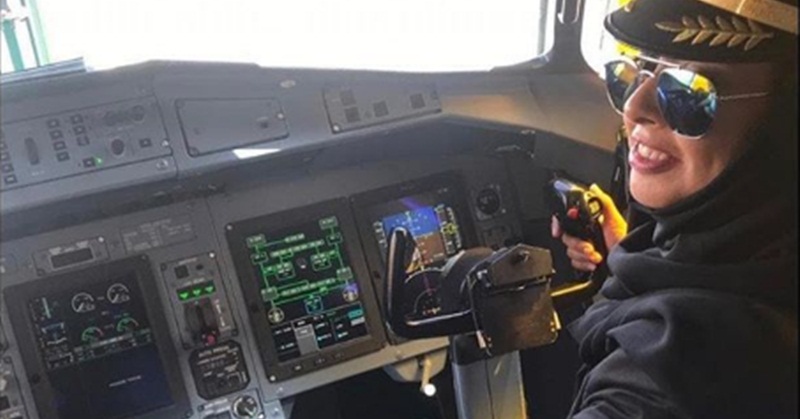 Saudi Recognizes First Female Commercial Pilot
Such is the case of Yasmeen Al-Maimani, the Kingdom's first-ever female commercial pilot, as she shared her delight and achievement through her post via Instagram.
As per reports, Al-Maimani had already undergone over 300 hours of test flights in the USA, after she had successfully completed a programme in Jordan.
In 2013, Al-Maimani exchanged her American license for a Saudi one, but after this she reportedly had a hard time finding an airline that was willing to recruit a female pilot.
In an interview, she shared, "I knocked many doors for a job, but the refusal is still going on under the pretext that women's jobs as female captain do not exist."
Years later, Saudi women were allowed to participate in the aviation sector including departments in customer service, air traffic control, and transport.
And just last year, Saudi women were allowed to work as administrative officers. And finally this year, Al-Maimani has become the first female commercial pilot in the Kingdom of Saudi Arabia.
Despite criticisms that reforms and social values in the Kingdom are slow-moving, almost unchanging, people like Al-Maimani dig deep in their individual strengths and capacities to bring a change not only for themselves, but also for the women, who, for the longest time, were unrepresented – if not entirely invisible in society.
With a dream, people are slowly realizing that nothing is impossible to achieve. Though it may take long years of hard work and sacrifice to become a reality, a small ripple can inevitably cause bigger ones, and eventually waves to challenge the tides of what "has been" into what will be.
For the rest of the women in the Saudi Arabia, and even in the rest of the Middle East, Yasmeen Al-Maimani's achievement is a story of following one's dreams and challenging norms to create opportunities for other (Saudi) women to follow.
ALSO READ: 25 Facts First-Time Travellers Should Know About Saudi Arabia