The Iron Dome, Israel's anti-missile defence system, has intercepted 90% of rockets launched, minimising the severity of one of the country's biggest attacks.
According to several sources, Israel's Iron Dome missile defence system intercepted roughly 90% of the rockets launched by Hamas during the recent hostilities.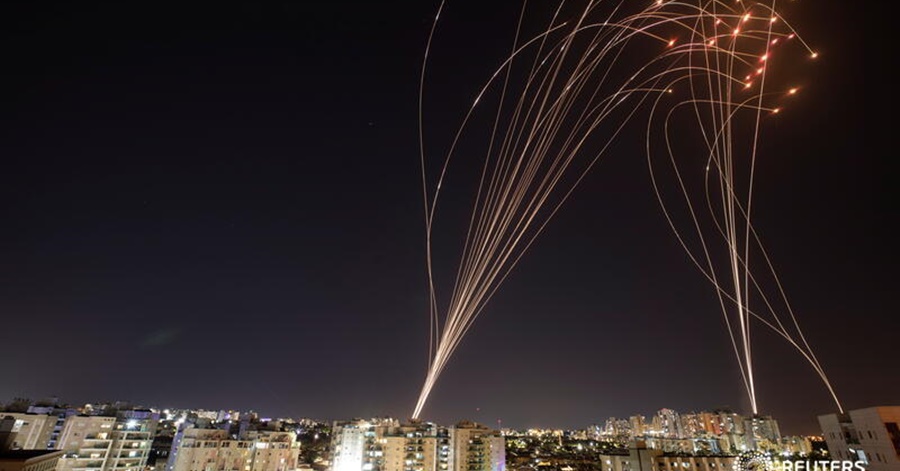 [WATCH] Israel's Iron Dome Intercepts 90% of Rockets Fired, Limiting Impact of Large Attacks
According to the Israeli military, Hamas fired 1,600 rockets, the largest-ever test for the Iron Dome, which operates by shooting its own projectiles to kill incoming rockets before they land, the Business Insider reported.
The device can only track a limited number of rockets at once. Despite the recent barrage's aggressiveness, the system seems to have held up.
According to the Associated Press (AP), 400 rockets were shot down and landed in Gaza, leaving Israel with 1,200 to intercept.
The Israeli Defense Forces (IDF) and onlookers posted videos of the airborne combat between rockets and interceptor missiles on Tuesday. Every flash of light denotes an effective intercept:
RAW FOOTAGE: This is the moment the Iron Dome intercepted a barrage of rockets over Tel Aviv and central Israel. pic.twitter.com/8jl8OTgWCl

— Israel Defense Forces (@IDF) May 11, 2021
VIDEO: Dozens of rockets fired from Gaza are intercepted by Israel's Iron Dome air defense system over the Tel Aviv metropolitan area. pic.twitter.com/DbKUkpCp6u

— Avi Mayer (@AviMayer) May 11, 2021
"What you're seeing in the sky is the algorithm," an unnamed engineer, who worked on developing the system, told The Economist. "We've been constantly improving the algorithm so it can face a barrage like this."
According to experts, the Iron Dome algorithm has been modified to counter Hamas' attempts to overload the system with a large number of rockets.
However, it is not cheap; according to The Economist, each interceptor costs about $40,000, which is several times the cost of the simple Hamas munitions they intercept.
"When they're firing at a big city like Tel Aviv, there's no question: you intercept every incoming rocket," Isaac Ben-Israel, a former major-general and weapons specialist, explained to the outlet.
"[Hamas] failed because this is specifically what the system was designed to do: deal with multiple targets, and it's constantly been improved so it can deal with more."
However, some rockets made it through. According to the Associated Press, the Israeli death toll had risen to seven as of early Thursday morning. According to the outlet, a six-year-old boy was among those hit by missiles.
Gaza, as an occupied territory, is much less capable of defending itself from Israeli assaults. According to the Associated Press, Israel has launched approximately 600 airstrikes into Gaza after Hamas started firing missiles.
These operations involved the destruction of two high-rise buildings allegedly housing Hamas leaders, according to Israeli authorities.
According to the Associated Press, the Gazan Health Ministry confirmed 69 people killed in the attacks as of Thursday, including 16 children and six women.
READ NEXT: Saudi and Gulf Allies to End Years-long Blockade on Qatar, Reopen Borders