Hundreds of buildings have been damaged and thousands of people have been displaced due to a 6.5 magnitude earthquake that hit Indonesia. Death toll numbers have reached 35 cases and more people are trapped under collapsed buildings.
The earthquake struck the south of West Sulawesi Province early Friday – 15th January 2021. This has left dozens dead and many people homeless. Power and telephone lines are down in many areas.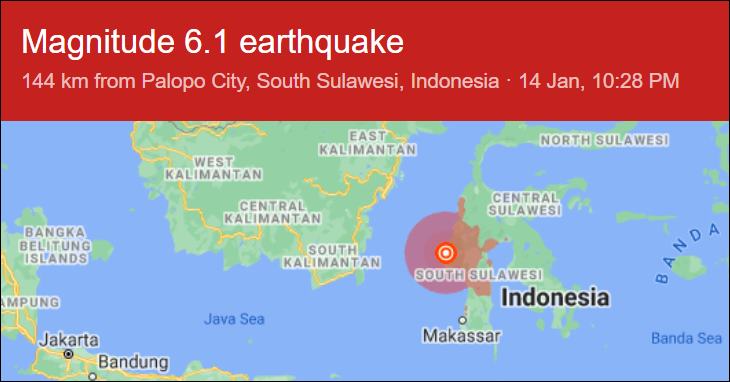 Deadly Earthquake Hits SouthWest Sulawesi Province in Indonesia
The earthquake destroyed a hospital and dozens of patients are trapped. Authorities are racing against time in order to save people from collapsed buildings. Many people have been placed in temporary shelters.
This is a tragic news and difficult time especially after another recent tragedy occurred where an Indonesian airline plane flight #SJ182 crashed ending the life of passengers onboard.
Below are posts about the earthquake as shared on social media.
A 6.2 earthquake hit Indonesia, killing at least 35 people. Hundreds of buildings are damaged and 15,000 people displaced.

The quake flattened a hospital, trapping dozens of patients. More are trapped under other collapsed buildings, rescuers say: "We are racing against time." pic.twitter.com/76jP6ruqz2

— AJ+ (@ajplus) January 15, 2021
A strong 6.2 magnitude earthquake killed at least ten people, injured hundreds and damaged many buildings in Indonesia's Sulawesi island. The epicentre of the quake was six kilometers northeast of Majene city https://t.co/e1a7okskvI pic.twitter.com/FDalOKB6Kw

— Reuters (@Reuters) January 15, 2021
Kepala BNPB Doni Monardo Pkl 22.00 WITA mendatangi sebuah rumah yang ambruk akibat gempa di Jl. KS Tubun Mamuju Sulawesi Barat. #gempaSulbar #infobencana #BNPBIndonesia pic.twitter.com/iQpIhwXpCg

— BNPB Indonesia (@BNPB_Indonesia) January 15, 2021
🇮🇩 A powerful #earthquake rocked #Indonesia's #Sulawesi island Friday, killing at least 42 people, levelling a hospital and severely damaging other buildings.

Authorities warned there were people still trapped beneath rubble ⤵️ pic.twitter.com/dxN5bg85rI

— FRANCE 24 English (@France24_en) January 15, 2021
Sending my Condolence & Prayers From "Pakistan" to all of you, stay safe Allah Bless All Of You😥🙏💔#earthquake #indonesiaearthquake pic.twitter.com/FaPEnvpBqY

— نُور (@noor_chwdry) January 15, 2021
At least 34 died in a powerful #earthquake in #Indonesia's #SulawesiIsland, early Friday.
It struck the city at 2:18 am (1818 GMT) with 6.2 magnitude.
Many people goes missing, authorities fear for them to be buried under the debris
The damage was very strong#earthquakeindonesia pic.twitter.com/dXZOIpXCNJ

— Indian News Network (@Indiannewsnetw2) January 15, 2021