As a region, the Middle East has been one of the earliest leading destinations when it comes to trade, religion, and other economic endeavor. Fast forward to today… the region still remains to be one of the strongest in the world.
Of note, the Middle East has also produced a number of great individuals who excelled in their fields of work, have contributed to the development of our world today, and made significant contributions to the entire human race. In this post, we will acknowledge some of the biggest personalities in 2019 who hailed from the Arab world, or are of Arab lineage.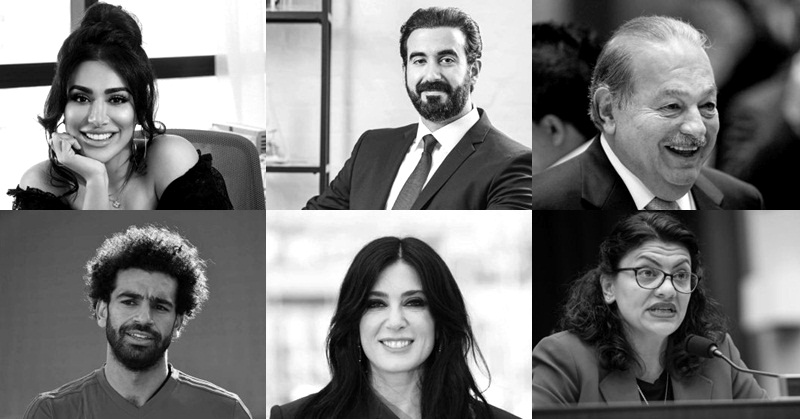 [LIST] Meet 2019's Most Powerful Arabs in the World
While the concept of power is subjective by nature, those who took up a personal or social cause and has wielded it in their own capacity to impact a change in their lives as well as to the rest of the world during or for the majority of their lifetime can be rightfully deemed 'powerful' in their own terms.
In this article, we will share a list of people who have rendered their lives for this cause, as curated in a report by the Arabian Business.
From Oscar-nominated film director Nadine Labaki, who changed the lives of amateur refugee actors by casting them in her feature film Capernaum (and convinced us to look at a unique piece of the world through their eyes) to Rashida Tlaib, who became the first Muslim woman to serve as the US Representative for Michigan's 13th congressional district in 2019 and the first Palestinian-American woman in Congress.
And then there's Ayman Hariri, who is taking on Facebook with his ad-free social app Vero and helping users 'wake up to the high price of free' as platforms continue to mine data, affecting privacy, mental health, and even national elections.
Let's acknowledge and pay tribute to some of the great Arab men and women who have made an impact to the world and the way we live in it today. The list is presented in no particular order below:
Abdalla Sultan Al Owais – Al Rawabi Dairy Company UAE, Sharjah chamber of Commerce & Industry AND Sharjah Expo Centre
Abdallah Massaad – RAK Ceramics
Ahmed Abou Hashima – Egyptian Steel, Egyptian Cement, Egyptian Contracting and Egyptian Media Group
Abdul Aziz Al Ghurair – CEO, Mashreq Bank
Abdulaziz Al-Sowailim – EY Middle East and North Africa (MENA)
Ahmed bin Rakkad Al Ameri – Sharjah Book Authority
Sheikh Ahmed Bin Saeed Al Maktoum – Emirates Group
Aisha Bin Bishr – Smart Dubai Office
Ali Rashid Lootah – Nakheel
Amal Clooney – Doughty Street Chambers
Amin Nasser – Saudi Aramco
Badr Al Olama – Aerospace and Defence, Mubadala Investment Company; Organising Committee, Global Manufacturing and Industrialisation Summit
Ayman Hariri – CEO, Vero
Badr Jafar – Crescent Enterprises
Carlos Slim Helu – America Movil
Elie Saab – Elie Saab Fashion
Cherif Sleiman – Infoblox
Fadi Jawad – Eurotech Oil and Gas Training and LABNANA Lebanese Initiative
Fadi Ghandour – Wamda Capital
Fairuz – Singer
Fatima Al Jaber – Board Member, Al Jaber Group
Ghaith Al Ghaith – Flydubai
Farid Chedid – Chedid Capital group of companies
Dr. Habib Al Mulla – Baker & McKenzie Habib Al Mulla
Huda Kattan – Huda Beauty
Hussain Sajwani – Damac Holding
Jassim Alseddiqi – Abu Dhabi Financial Group
Ismail Al Hammadi – CEO, Al Ruwad Real Estate and Biznet Consulting
Jamal Abdulla Lootah – Imdaad
Khaled Al Huraimel – CEO, Bee'ah
Lubna Olayan – SABB, Alawwal Bank
Majid Al Futtaim – Majid Al Futtaim
Mansour Bin Jabr – Bin Jabr Group
Mohamed Hadid – Hadid Design and Development Group
Michel Accad – Al Ahli Bank of Kuwait (ABK)
Marwan Bin Jassim Al Sarkal – Sharjah Investment and Development Authority (Shurooq)
Mazin Khoury – American Express Middle East
Mohamed Alabbar – Emaar Properties
Mohammed Ali Al Shorafa Al Hammadi – United Eastern Medical Services (UEMedical)
Mohamed Salah – Athlete, Liverpool FC and Egypt
Nadine Labaki – Actress, Director
Naguib Sawiris – Orascom
Najla Al Midfa – Sharjah Entrepreneurship Centre
Nashwa Al Ruwaini – Pyramedia, Al Joude Investments, al Joude Advertising and Publicity, Delma Medical Centre
Nidal Abou-Ltaif – Avaya International
Randa Bessiso – The University of Manchester
Rashid Al Ghurair – MENA Energy
HE Reem Abdel Rahim BinKaram – NAMA Women Advancement Establishment
Prince Alwaleed Bin Talal Al Saud – Kingdom Holding
Rashida Tlaib – US House of Representatives
Nasser Sulaiman Al-Nasser – Saudi Telecom Co.
Rami Malek – Actor
Reem Al Hashimy – UAE Minister of State for International Cooperation Expo 2020
Saif Belhasa – Saif Belhasa Group of Companies
Rola Abu Manneh – Standard Chartered Bank, UAE
Zayed Hussein Al Baddad – Senior Executve, ALBADDAD Capital Group, ALBADDAD Real Estate Group, ALBADDAD Holding Group, ALBADDAD Manasik Holding
These people have all proven their worth in their chosen field or profession, and in the process, have brought prestige and honour not only to themselves, but also to the Arab race.
 ALSO READ: Saudi Arabia Reaffirms Commitment in Support of Women Empowerment